Martin Archery
Date Posted:20 March 2017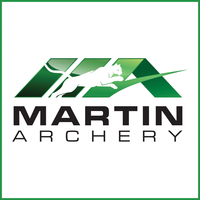 Martin Archery is one of America's oldest archery manufacturers, having been founded in 1951. Their products and innovation have shaped and set the standards in the archery industry world wide and millions of people from around the globe have chosen Martin as their bow brand of choice.
In 2013 Martin Archery's founder, Gail Martin passed away and the company fell into hard times and the company's assests were nearly auctioned off.
Fortunatley the company was revived with new management and offer new, exciting products including the Chameleon compound bow which features a carbon constructed riser making it one of the lightest bows within it's class.
Martin Archery's revival must have been a pretty big thing in the U.S as the forever popular film franchise The Hunger Games main character Katniss Everdeen played by Jennifer Lawrence switched bows from a Hoyt Buffalo to a Savannah bow in the Mockingjay films. The Savannah is from Martin Archery's Damon Howatt division.
All Martin bows are made in the USA. The company has invested millions into technology and infrastructure to support their aim in creating the best products in the archery industry.
While many companies choose to outsource the majority of their product manufacturing, at Martin Archery, they've held a strong commitment to create bows solely in the United States.