The Ultimate Carbon Bow is Here, Martin Chameleon Carbon
Date Posted:16 March 2017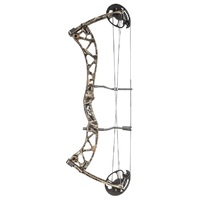 We have recieved delivery of our first shipment of all new 2017 Martin Chameleon Carbon compound bows in package form.
The Chameleon Carbon is made in the USA by Martin Archery - one of America's leading compound bow makers, and is the ultimate carbon value bow and is tough and durable for any form of archery.
The Chameleon Carbon has many features including the MaxAdapt cam system, allowing the draw length to be lowered to 17" (max 30") and NoPress Adjuster Limb Weight System allows press-free maintenance amd maximizes draw weight adjustability. It's lowest poundage is 0lb! And it's max is 70lb! making it the most draw weight adjustable bow on the market.
And the package? The bow comes in package form which includes the following:
3 Pin Adjustable Sight
Peep Sight (installed)
D Loop (installed)
Quick Detach Bow Quiver
Stabilizer
Wrist Sling
How about the price? $800, $700, no it's selling for just $599 complete with the package and currently with FREE shipping Australia-wide making this bow the most value-for-money carbon constructed compound in Australia!
For more information about this extraordinary bow, or to purchase please see it's listing page here.