Archery at Hoddywell for the school holidays
Date Posted:12 December 2018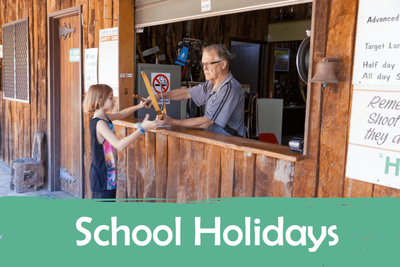 School holidays are right around the corner and are the perfect time to take the kids out of Perth and experience a fun day out doing archery.
Hoddywell Public Archery Park is located just an hour from Perth in the Avon Valley town of Toodyay. Our address is 1027 Clackline-Toodyay Road.
Hoddywell offers 3 archery trails each designed for different skills sets. Our 9 target beginner trail is ideal for kids (ages 6+) and adults who have never done or have little experience in archery. Price is $20 per person and includes all equipment and tuition. Our hire bows have built-on finger and arm protective devices.
The 15 target intermediate trail offers more challenging shots at various positions and long range distances, the trail features downhill and slight uphill terrain. You can also use your own bow on the intermediate trail.
The 18 target advance trail is for those who have experience in archery, the trail features a semi-unmaintained appearance as to give a more 'real life' bush terrain setting. Challenging positions at a wide variety of distances (close range to very long range). You can use your own bow on the advance trail.
For more information including prices, please visit our website at www.hoddywellarchery.com.au