Eastman Outdoors BBQ Jerky & Seasoning now in stock
Date Posted:11 March 2018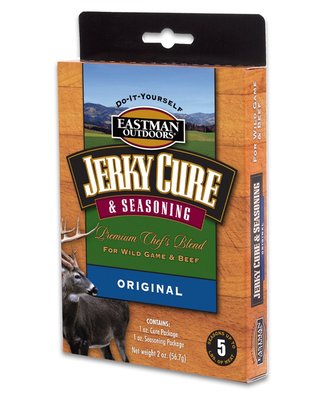 Hoddywell now stocks Eastman Outdoors Jerky Cure and Seasoning. Various flavours to choose from. Packets are just $16.50ea.
Designed to add just the right touch of smoky hickory to your jerky, this pack provides enough coverage for up to 5-pounds of meat. Perfect for everything from venison and beef to poultry and other wild game, it's designed by wild game chefs to compliment the natural flavor of your meat.

Contains both cure and jerky packets

Use with wild game, meats or poultry

Created by Professional Wild Game Chefs

Cures and flavors up to 5-pounds (2.26kg) of jerky

Easy to follow instructions included

A great way to add some real flavor to your jerky, this chef-designed kit brings a taste of the outdoor gourmet home.

Contains: 1 oz (28.34g) Cure Package, 1 oz (28.34g) Seasoning Package.

Net weight: 2 oz (56.7g).