Hoddywell Archery Park opens on Saturday
Date Posted:20 January 2017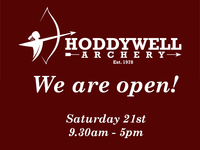 Hoddywell Archery Park will open on Saturday 21st at 9.30am.
The archery store will also be open as well.
Hoddywell Archery Park is located at 2017 Clackline-Toodyay Road in the Shire of Toodyay, usually an hours drive from Perth.
Have a go with a bow - no experience necessary. Prices start from $19.50 per person and includes all equipment, tuition and safety briefing.
Groups with 8 people or more please book by contacting us on 9574 2410.
Our archery store will also be open and there are a lot of new year discounts, especially with 2016 compound bows. Make sure to check them out here.