Parker GR-30 and Lightning Compound Bows now in stock
Date Posted:13 August 2018


We have recieved shipment of Parker GR-30 and Lightning compound bows. Paker is one of the world's largest compound bow producers and has been an industry leader since 1984. All Parker products are made in the USA.
GR-30

The GR-30 compound bow features the High Performance GR Dual Cams that are devastatingly fast at 310 FPS.

The GR-30 Dual Cams provide 80% let-off with adjustability from 17″-30″ (1/2″ increments).

At a mere 3.55 lbs, it is lightweight, forgiving, and incredibly smooth, featuring Parker's exclusive Split Limbs with Fulcrum Pocket System and a tunable String Suppressor.

The GR-30 is extremely adjustable with a 20 – 70 lbs draw weight range through the entire draw length range. With the Construction, Fit and Finish of Bows costing Hundreds more, it also features a 100% Machined Aluminum Riser and is available in Kryptek Highlander Camo.
SPECS
Right Hand
Draw Weight: 20-70lbs
Draw Length: 17"-30" (1/2" adjustability)
Brace Height: 7.25"
Mass Weight: 3.55lbs
Axle-to-Axle: 30"
Let-Off: 80%
ALSO AVAILABLE IN UPGRADE KIT FORM
5 Pin Adjustable Sight with LED Light
3 Brush Arrow Rest
Vibration Dampening Stabilizer
Wrist Sling
Peep Sight
D Loop Rope
Allen Key Set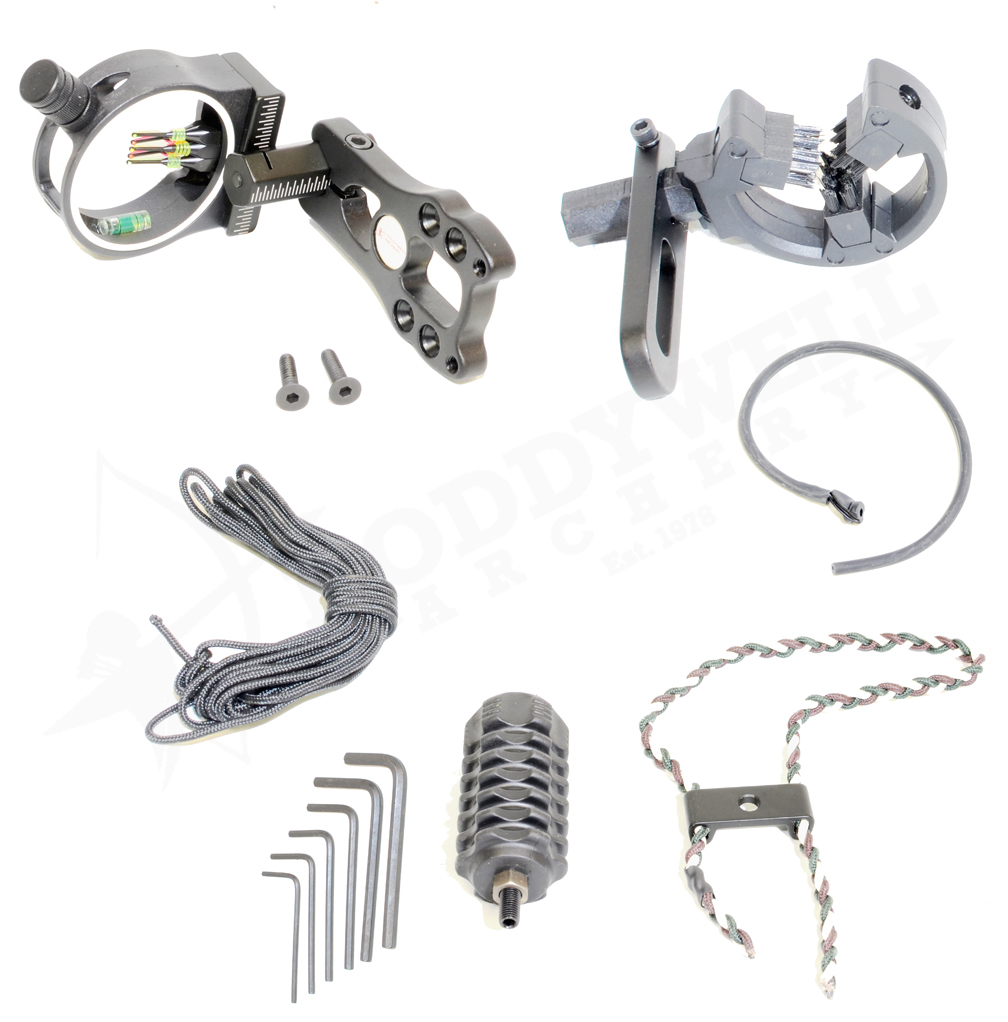 Lightning
The Lightning features the High Performance Lightning Dual Cams that are devastatingly fast at 310 FPS, perfectly tuned and always trouble free. The Lightning Dual Cams provide 70% let-off with adjustability from 19"-29" (1/2" increments). At a mere 3.45 lbs, the Lightning is lightweight, forgiving, and incredibly smooth, featuring Parker's exclusive Split Limbs with Fulcrum Pocket System and a tunable String Suppressor. The Lightning is extremely adjustable with a 30 - 60 lbs draw weight range through the entire draw length range, with no bowpress required. With the Construction, Fit and Finish of Bows costing Hundreds more, the Lightning features 100% Machined Aluminum Riser and is available in Next G1 "Vista" camouflage.

The Lightning comes with an Outfitter Package that features name brand accessories including 3 Pin Fiber Optic Sight, Whisker Biscuit Arrow Rest, an Angled Peep Sight, Nock Point, and a premium 4 Arrow Quick Detach Quiver, all pre-installed and factory tuned - Ready to take to the field. This package saves time and money, so you can focus on what matters most...Archery.

SPECS

Right Hand
Draw Weight: 30 - 60lbs
Draw Length: 19" - 29" (1/2" adjustments)
Axle-to-Axle: 30"
Mass Weight: 3.45lbs
Brace Height: 7"
Let-Off: 70%
Arrow Speed: 310fps