WA's best public archery centre
Date Posted:5 August 2019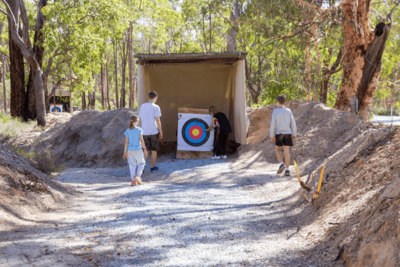 Hoddywell Archery Park is the place to go for public archery in Perth!
Hoddywell is Australia's only full-sized, dedicated Public Archery Park. Located on 50 acres in the picturesque Avon Valley town of Toodyay our venue provides great recreational entertainment for all ages young and old.
Hoddywell Public Archery Park was established in 1978 and is the 'go to' place for individuals, families and social groups who want to have a go at archery in a fun, safe, no pressure environment without the expense of purchasing archery equipment or the hassle of joining an archery club or archery association.
We're just an hours drive from Perth City, located at 1027 Clackline-Toodyay Road in the Shire of Toodyay.
Please note: Public Hire is only open on Saturday & Sunday, 9.30am – 5pm.
We do Hire during School Holidays & some Public Holidays (Please ring)
Minimum starting age for archery is 6 years.
Last bows out at 4pm. All shooting stops at 5pm.